Virginia's first urban cidery, Blue Bee Cider is located in the heart of downtown Richmond's Old Manchester district at the fall line of the James River. Our ciders are made with rare and heirloom variety Virginia apples that are prized for their tannin, acidity and flavor.
One of Virginia's native bees, osmia lignaria, or the Blue Orchard Bee, provided the inspiration for our cidery's name. These hardworking bees are solitary and wild, emerging early in the cool spring just in time to pollinate apple blossoms.
Tasting Room Hours
Monday-Wednesday, 11:00 am-5:00 pm
Thursday-Sunday, noon-7:00 pm
Tours: Saturday & Sunday at 1:30, 3:30, & 5:30 pm
Join our Cider Club to stay in the loop and get exclusive access to new cider offerings!
Charred Ordinary
Mill Race Bramble
Orchard Potluck: YORK
Hopsap Shandy
Fanfare
Aragon 1904
Harvest Ration
Our Ciders
Latest Blog Post
Check out our Facebook Events Page for details each Summer Music Series performance!
Featured Product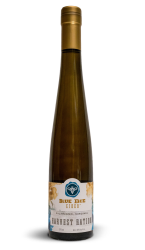 Our premier dessert cider, seasonally made from bittersweet apples. Available in 375 ml bottles. CA, DC, FL, MD, NC, TX and VA only.
In stock