The More the Merrier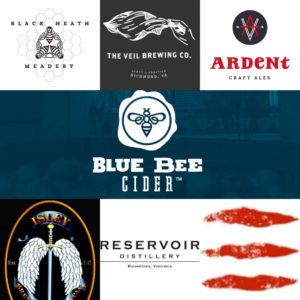 Neighborhoods rise and collapse, sometimes disintegrating into the very ground they once thrived on. Decades and decades pass before someone sees potential in skeletal structures, abandoned buildings and overgrown lots. Eventually a neighborhood develops a character, becomes known as something to the locals and in time becomes known to places far away.
Scott's Addition is a neighborhood of local businesses, of long-time family-owned companies and of new entrepreneurs that took a gamble on potential they saw here. Over a relatively short time, the neighborhood has become a hub of craft alcohol production in Richmond. It is made of a diverse group of producers creating quality beverages and customers that want to experience that rich diversity firsthand. Blue Bee Cider is preparing to move into an established neighborhood, one that is already frequented by our team members in order to enjoy the creativity, knowledge, and labor of our peers.
The grand opening of Blue Bee Cider at Summit Stables in Scott's Addition is a celebration of our new home and the many hands it took to build Blue Bee Cider into what it is today. We want to celebrate Scott's Addition as a neighborhood, encourage customers to wander through Scott's Addition and explore what everyone has to offer. In the spirit of unity and mutual respect, we have collaborated with six alcohol producers from the Scott's Addition Historic District for special products to be released at our grand opening. They are being released every hour on the hour in the following order:
1.  Ardent Craft Ales made "Smokin' Mower", a session blonde ale fermented with smoked Winesap and Stayman juice. Cellar team brought a bin of apples to Ardent and smoked them whole in ZZQ's smoker with help from ZZQ and the Ardent team. We also fermented the smoked juice with a champagne yeast to dry and created the 2nd batch in two years of our smoked cider.
2.  Black Heath Meadery made "Scott's Edition", a cyser fermented with Gold Rush juice and Virginia wildflower honey, with a generous addition of Bosc pear juice and Black Mission figs.
3.  The Veil Brewing Co, made "Boi Friendz", a barrel-fermented Brett IPA with Mosaic and Citra hops fermented with 30% unpasteurized Gold Rush juice. One of the barrels previously held the Veil's Jeune (single barrel spontaneously fermented ale) and the other was a first use Virginia red wine barrel.
4.  Isley Brewing Co, made "Apple Brown Betty", the return of our 2014 collaboration – an English brown ale fermented with Grimes Golden juice.
5.  Reservoir Distillery provided one of their recently emptied barrels and helped us decide on what unique offering to age and which one of their barrels to use (rye, wheat, or bourbon). We chose our Harvest Ration (dessert cider fortified with brandy) in their rye whiskey barrel for over four months.
6.  Three Notch'd Brewing Co.'s RVA Collab House made "Farm to Stable", a gose fermented with Gold Rush juice. The collaboration combines the tropical notes and high acidity from Gold Rush apples with a tart and salty gose base.
Note: We're also excited for Buskey Cider and Väsen Brewing Co. to be our neighbors. Väsen is still under construction and Buskey's schedule was tight, so we will look for opportunities to collaborate with both of them in the future.
All producers of alcohol have fermentation in common, something that immediately allows us to connect with other. We lose our minds when talking about yeast and the magic of fermentation, we discuss the patience it takes to get something just right, we share our excitement with each other about new products, new processes, and that new yeast strain we've just discovered. We also vent to each other, talk about sanitation, long hours, and frustrations when experimentation brings obstacles. We let each other borrow valves and gaskets; we help and learn from each other, inspired by each other's work.
We're humbled that each neighbor took the time to collaborate with us. Being welcomed to a neighborhood filled with peers you admire is overwhelming in the best of ways, not to mention the generosity and warmth we've received. We hope everyone that visits Summit Stables for our grand opening takes time to visit our new neighbors and experience what Scott's Addition has to offer.
-Manuel Garcia