2017 Good Food Awards Remarks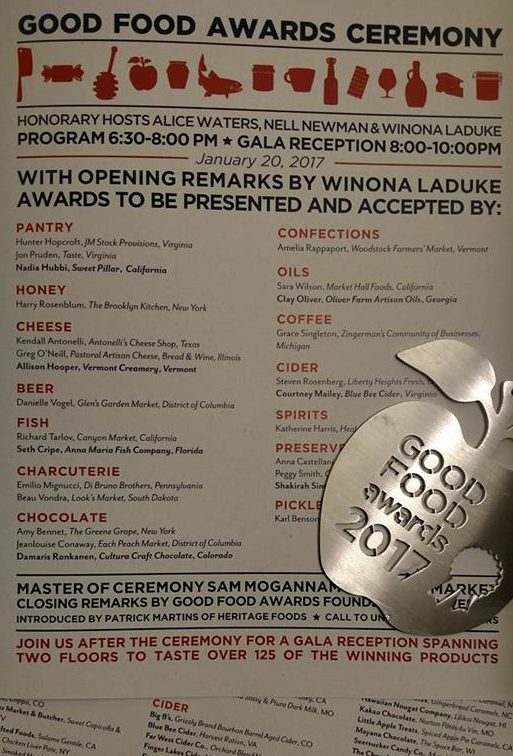 Full text of Courtney Mailey's acceptance remarks at the Good Food Awards in San Francisco, Jan. 20, 2017.
Thank you for honoring our little company with this award tonight. It is one that we share with our Virginia Grown partners Silver Creek Orchards, Seaman's Orchards, Henley's Orchard, and Coote's Store Farms, as well as with our distilling partner Catoctin Creek Distilling Company. I want to especially mention John and Ruth Saunders of Silver Creek Orchards, who were the first to enthusiastically embrace growing cider fruit that only cidermakers, not grocery stores, would buy.
Like many people, the financial crisis was a turning point for me. I used to work at the Federal Reserve and part of my work was interacting with home owners and housing counselors on the front lines of the foreclosure crisis. It was not fun.
So at a certain point I was ready to say, "Enough. I am going to cider school." And that is what I did. Afterwards, I apprenticed with a nearby cidery, Albemarle CiderWorks. It was an hour and half drive both ways. On the way there I would think about what I was going to learn that day and on the way back thought through the details about building this business.
About six months in, it was time to start getting serious and making decisions. I asked my husband how he felt about me taking this risk and his response was, "Fine. But I am not leaving the City." Most cideries are near the raw materials, the fruit.  He wanted me to figure it out how to be near the customers and so from this conversation Virginia's first urban farm cidery was born.
I drew on my previous career in economic development to make a viable urban farm cidery, one where the apple country and the city could win together by creating jobs and high-quality cider that would highlight the best of both worlds. In apple country, we work with growers to revive prized heirloom variety apples that have been out of use for generations but are well-acclimated to Virginia. These apple varieties don't need lot of extra fuss in terms of sprays and such. As we learn about how to integrate them into blocks with modern apples with similar growing patterns, more and more acres are being planted. These apples have higher marginal returns and attract positive attention to the growers.
In the City, we turn the apples into cider and sell it to a primarily urban audience. We also grow apples in the city and try to teach others how to work with hearty heirloom varieties that require less ongoing management. We partner with nonprofits and the park system to raise awareness about tree fruit growing in key neighborhoods where it was once common a hundred years ago; neighborhoods that may have fallen on hard times but are poised for a renaissance of their own.
While Blue Bee Cider is still a work in progress, each day we are little bit closer to: making cider of the highest quality from local fruit, raising awareness about prized heirloom varieties with local origins, building pride in that agricultural legacy, spreading skills for fruit growing among urban households, and creating economic opportunity through skilled job creation tied to traditional cidermaking.
Thank you for this honor and thanks to our customers whose support has enabled me to change my life.