2/27/18
Appetizers & Cider Cooking Class with Mise En Place
Tuesday, February 27 from 5:30-7:30pm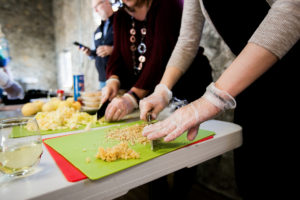 Join us for a hands-on cooking class with Mise En Place where you'll be guided through creating three appetizers paired with three of our ciders. It's the perfect way to get some ideas for your next night in with friends!
Menu
Mini Salmon Cakes with a Lemon Aioli
Paired with Hopsap Shandy
Butternut Squash Risotto
Paired with Harrison

Apple Ginger Tartlettes
Paired with Harvest Ration
SOLD OUT! Check back with us for more Mise En Place events later this year. 🙂
Photo by Catt Levesque.