2/17/18
Valentine's Cupcake Pairing Flight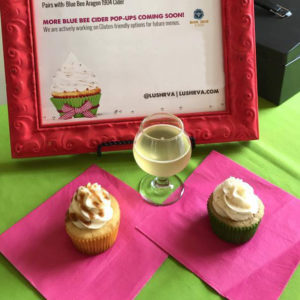 Enjoy a decadent pairing of cupcakes and cider — the "Sweets for Sweethearts" flight!
Lush Cupcakes joins us at the cidery on Saturday, 2/17, pairing three mini-cupcakes with the three flight pours of the ciders featured in their recipes:
– Aragon 1904 Apple Pie
– Harvest Ration Butterscotch Candy Apple
– Gluten-Friendly Firecracker Ginger Spiced Apple
To help the bakers accommodate demand, these flights are $15 and will be snapped up lickity split. It's a perfect Valentine's Day gift!