4/29/17
Virginia Hopped Cider Festival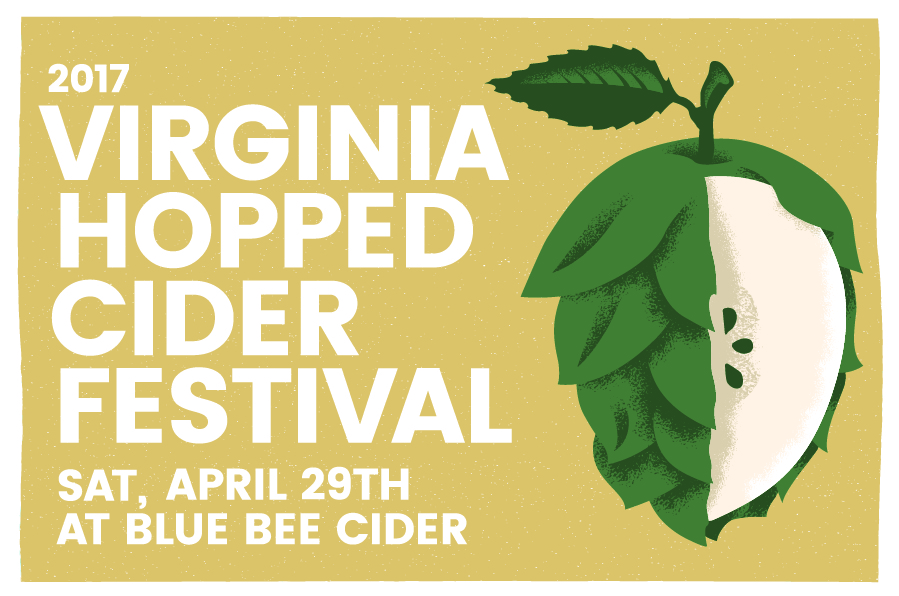 Almost four years ago, Blue Bee Cider introduced the first hopped cider in Virginia. Now many of our fellow cideries create their own versions of this unique beverage.
Come celebrate this growing cider style with us on Saturday, April 29 at the Virginia Hopped Cider Festival at Blue Bee Cider. Hopped ciders will be poured from Blue Bee Cider, Blue Toad Hard Cider, Bold Rock Hard Cider, Buskey Cider, Corcoran Hard Cider, Coyote Hole Ciderworks, Kindred Pointe, Potter's Craft Cider, and Wild Hare Hard Cider.
In addition to trying 11 of Virginia's hopped ciders, you can enjoy local food and special-edition hopped recipes (Continental Divide, Camden's Dogtown Market, and Nightingale Ice Cream Sandwiches), peruse local hop-related artwork (Studio Two Three and Newtowne Goons), and take in the sounds of live music by Scattered Smothered & Covered (2-4pm) and Moossa (5-8pm).
While festival entry is free, you can purchase tickets in advance for cider tastings and activities at the festival. For $15, you receive a flight of 5 Virginia hopped ciders, 3 glasses of cider, or a ticket to a Grand Tasting class.  Additional tickets may be purchased at the festival.
---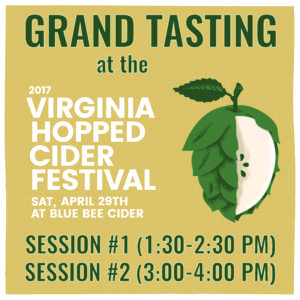 Experience a guided tasting of all 11 Virginia hopped ciders featured at the festival. Learn about aroma and flavor profiles of different hops, the emerging Virginia hop industry, and effects of varied production techniques. Admission ($15/3 tickets) includes cider tastings, guided sensory analysis, and an illustrated guide.
---