Hops & Cider: A Perfect Pair
Celebrating Growth in Virginia's Hopped Cider Family
Four years ago, Blue Bee Cider became the first Virginia cidery to make a hopped cider. A style long popular on the West Coast, it was unfamiliar to our shores and took some regulatory tangoing to accomplish. Thankfully, all was eventually settled and our Hopsap Shandy was introduced to the world in November of 2013.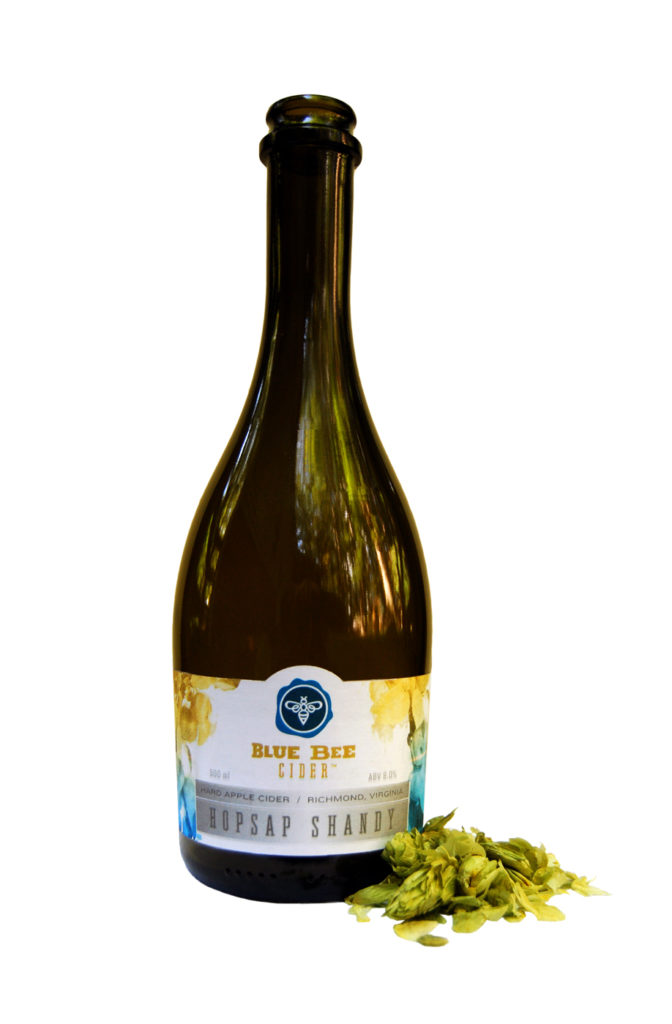 In its first iteration, Hopsap Shandy was a Winesap-York cider infused with whole-cone Cascade hops. The following year, the process remained the same, but whole-cone Citra hops were added along with Cascade. By the third year, we transitioned to a blend of whole-cone Cascade, Chinook, and Columbus hops, a combination still used in our current vintage.
While at first it was met with speculation by some and excitement by others, Hopsap Shandy became the gateway both stylistically and legally for other Virginia cideries to begin creating their own hopped ciders. Today there are 12 cideries (and counting!) in the state with hopped styles on the market, some offering several varieties.
On Saturday, April 29, Blue Bee Cider will host the inaugural Virginia Hopped Cider Festival to celebrate this growing cider style, providing the chance to learn more about the Virginia hop industry and sample the wide array of flavors and aromas possible from pairing apples and hops. The festival will be held at Blue Bee Cider's Summit Stables complex at 1320 Summit Avenue in Richmond from 1:00 to 9:00 pm.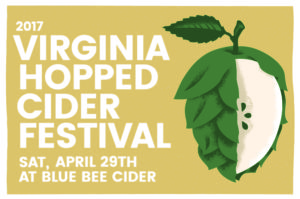 In addition to our classic Hopsap Shandy, Blue Bee Cider will feature a version that has been aged in the small American oak barrels we use for our Harvest Ration brandy, as well as a new version using Motueka hops and Saison yeast.
Alongside these offerings, the festival will feature hopped ciders from Blue Toad Hard Cider, Bold Rock Hard Cider, Buskey Cider, Corcoran Hard Cider, Courthouse Creek Cider, Coyote Hole Ciderworks, Kindred Pointe, Potter's Craft Cider, and Wild Hare Hard Cider. Several of the cideries will be present to talk with guests and sell merchandise and bottles.
The ciders will be available to taste in three flights or all ciders can be experienced in a side-by-side guided Grand Tasting workshop from 1:30 to 2:30 pm or 3:00 to 4:00 pm. While festival entrance is free, flights and workshops are ticketed. Tickets are available for purchase in advance and at the festival.
And as many of you may know, we at Blue Bee Cider love to eat, so there will be no shortage of foods to accompany your cider selections. Camden's Dogtown Market, our former Manchester neighbor and the kitchen behind our "breads & spreads" program at Summit Stables, will be smoking barbecue on site and Continental Divide will be serving up a selection of tacos. We've also teamed up with Nightingale Ice Cream Sandwiches to create an exclusive Cascade hop-infused ice cream sandwich especially for the festival, so come early to get your hands on this sweet treat!
Local arts vendor Newtowne Goons will be in our courtyard selling prints of their "Anatomy of a Hop" design, among others, and our Scott's Addition neighbor Studio Two Three will be selling t-shirts with our official Festival design and live-printing tote bags from 3:00 to 6:00 pm.
Setting the soundtrack for the day will be live music by Scattered Smothered & Covered from 2:00 to 4:00 pm and Moossa from 5:00 to 8:00 pm.
The festivities will continue Sunday, April 30 with the Virginia Hopped Cider Industry Workshop from 2:00 to 3:30 pm. Held in partnership with the Old Dominion Hops Cooperative and the Virginia State University Hop Program, the workshop will feature talks about the current Virginia hop industry, growing practices, and research. After you've filled up on knowledge, you'll be led through a guided tasting of five hopped ciders created exclusively for the workshop by Blue Bee Cider's cellar team. Tickets are available here.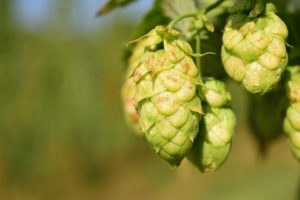 Whether hopped cider is new to you or your go-to beverage of choice, the festival is sure to provide an array of options to challenge and delight your palate. Come explore with us, bring your friends, and enjoy all that this growing style has to offer!
-Nicole Martorana